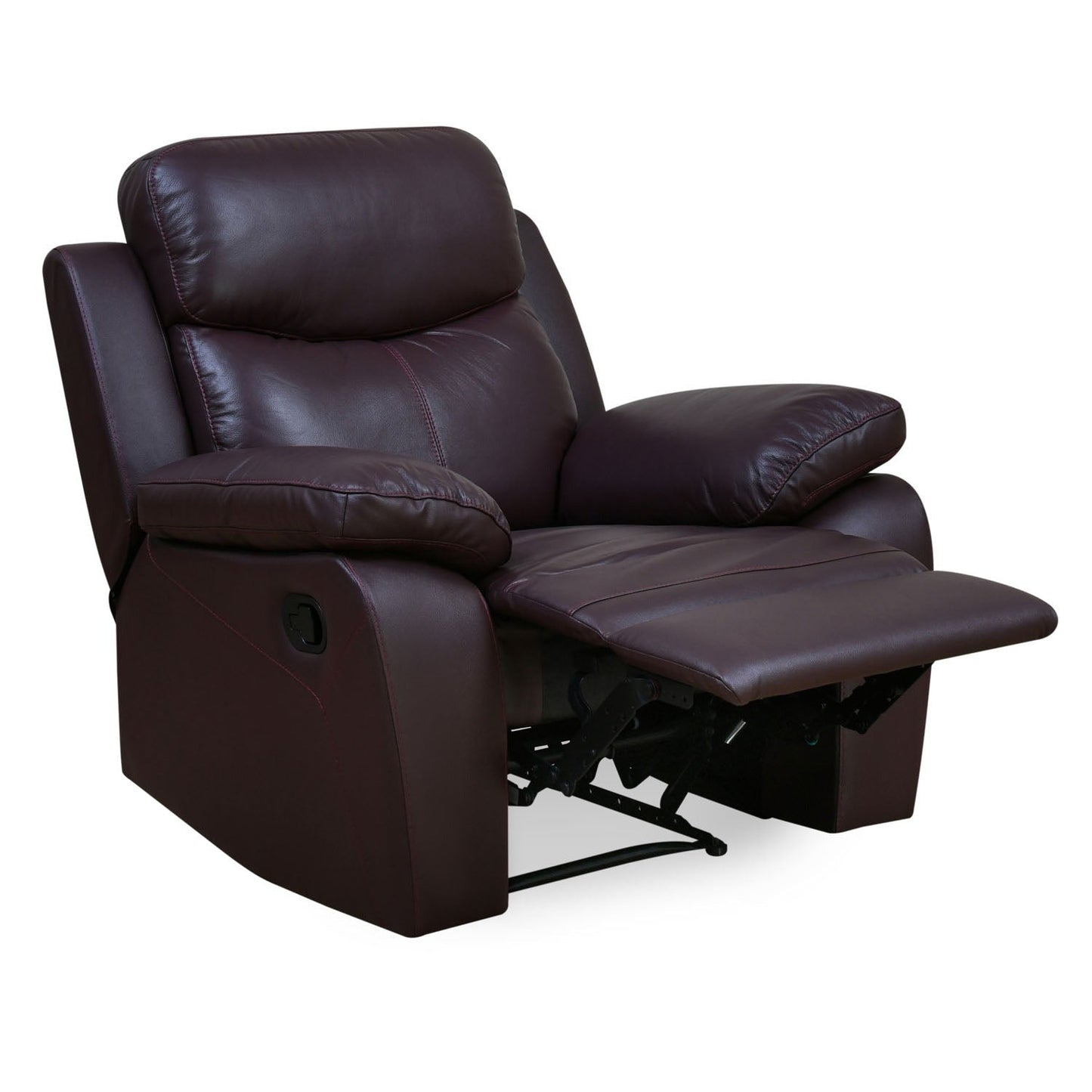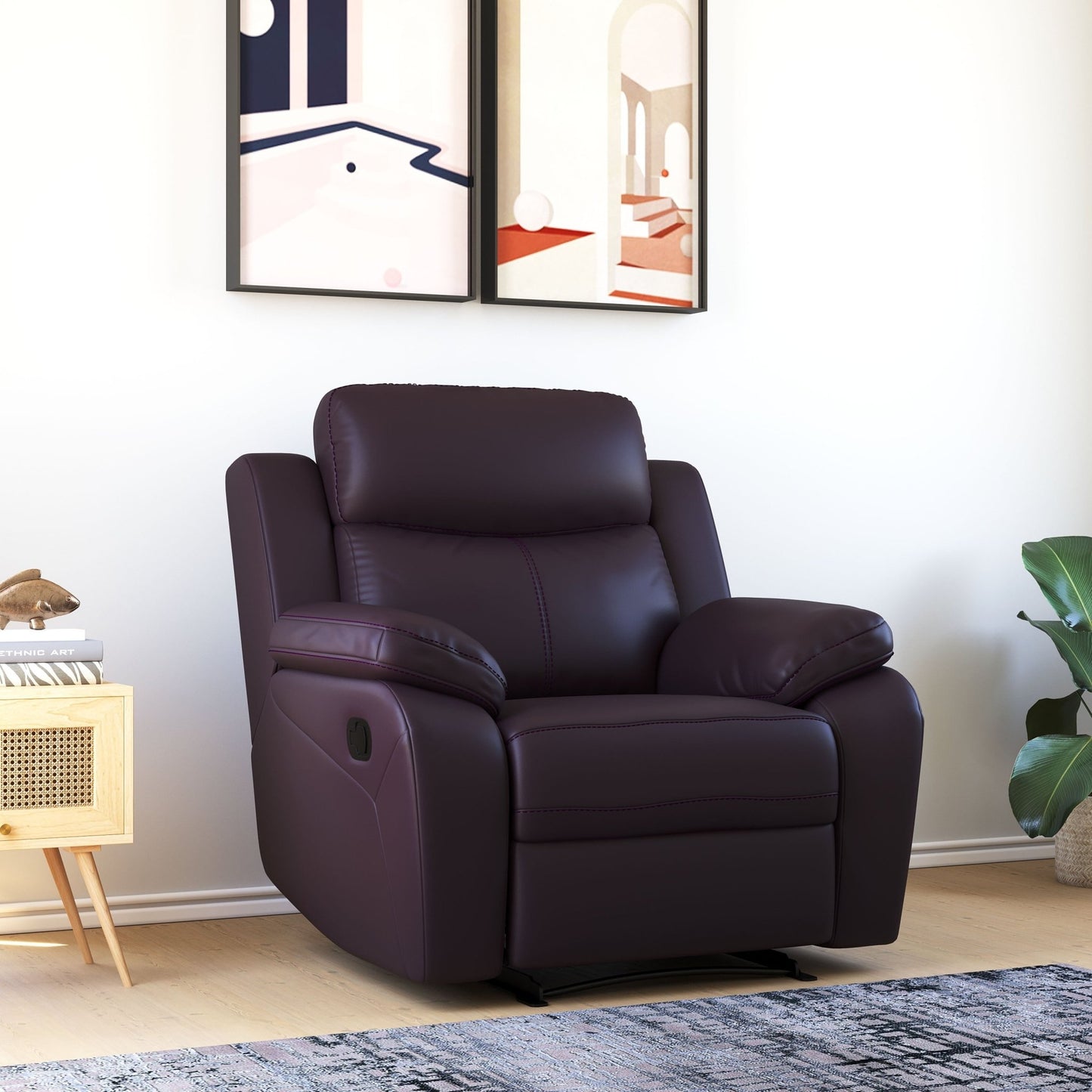 Description
Upgrade your relaxation experience with our Premium Manual Recliner. Crafted for those who appreciate comfort and style, this recliner seamlessly combines functionality and aesthetics to create the perfect addition to your home. Whether you want to unwind after a long day or binge-watch your favorite shows, our manual recliner has you covered.
Key Features:
Primary Material: Solid Wood
Upholstery Material: Leatherette
Available Colors: Dark Brown
Seating Capacity: 1 Seater , 2 Seater , 3 Seater
Mechanism: Manual
Dimensions: 1 Seater: 

96.5D x 99.1W x 101.6H Centimeters


                    2 Seater:

 96.5D x 157.5W x 101.6H Centimeters

                   3 Seater: 0.97D x 2.16W x 1.02H Meters
Unmatched Comfort: Sink into the plush, high-density foam cushions and padded armrests, which cradle your body in relaxation. The ergonomic design ensures support for your back and neck, making it the ideal seat for hours of pure comfort.

Premium Material: Our manual recliner is upholstered in a luxurious, easy-to-clean material that's both soft to the touch and durable. It's available in a variety of stylish colors to match any decor.

Smooth Manual Recline: Easily adjust your recliner to the perfect angle with our smooth, hassle-free manual recline mechanism. It allows you to find the most comfortable position for reading, watching TV, or napping.

Space-Saving Design: Perfect for apartments or smaller spaces, this recliner doesn't compromise on comfort. It's designed to save space and fit snugly against a wall, giving you more room to move around.

Built to Last: The sturdy frame and high-quality materials ensure this recliner will be a lasting part of your home for years to come. It's built with longevity in mind, so you can enjoy your investment for a long time.

Versatile Use: From the living room to the home theater, this manual recliner is versatile and adaptable. It's perfect for solo relaxation or sharing quality time with loved ones.

WARRANTY DETAILS: 

- 1 Year Limited Brand Warranty for Manufacturing Defects only.
Add a touch of luxury and comfort to your living space with our Premium Manual Recliner. Don't miss out on the ultimate relaxation experience. Order now and enjoy the best seat in the house!
Note: Please refer to Dimensional image / Product details before placing the order. In case any clarification is required, please give us a call back at this No: 7778077779.
Before placing an order please make sure that the product can be entered easily into your home. Please expect an unevenness of up to 5 mm in the product due to differences in surfaces and floor levels. (In case the absence of service lift product will be delivered to ground floor only)
Customer Reviews
UltimateSupport Manual Recliner
I love the versatility of this recliner. It offers multiple reclining positions, allowing me to find the perfect angle for reading, napping, or watching TV. It's my new favorite spot!
RelaxEase Manual Recliner
This recliner is my new favorite spot in the house. The generously padded armrests and footrest provide exceptional comfort. I can't get enough of it!
ClassicElegance Manual Recliner
The lumbar support on this recliner is exceptional. It helps alleviate my lower back pain and promotes proper spinal alignment. It's a relief to have such comfort!
ComfortFlex Manual Recliner
The zero-gravity feature of this recliner is a dream come true. It relieves pressure on my joints and promotes relaxation. I feel weightless when I recline!
ErgoRest Manual Recliner
The reclining mechanism on this chair is whisper-quiet. It operates smoothly without any squeaking or jolts. It's a seamless and peaceful reclining experience.